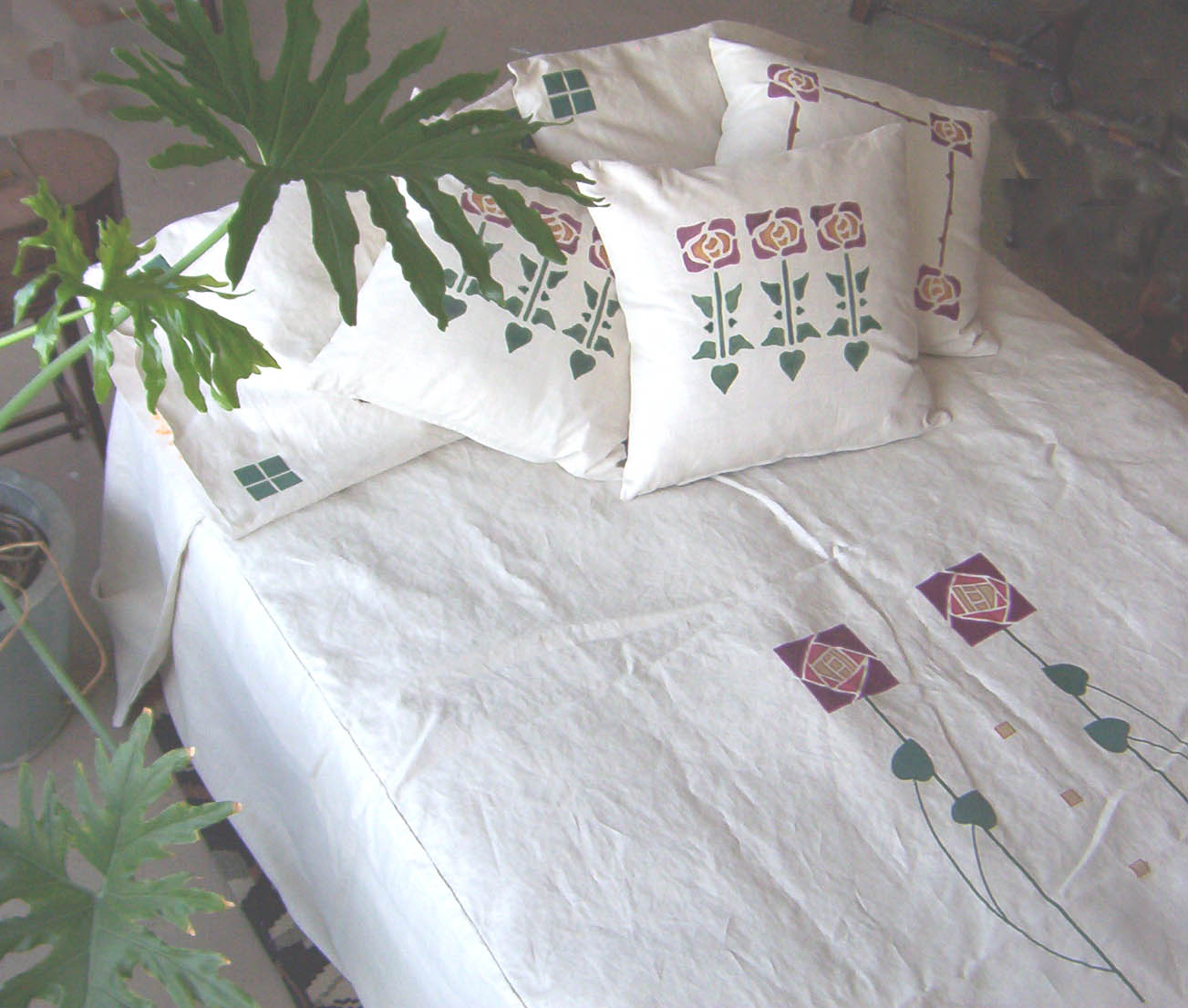 Bedding
We make custom bedding in a variety of styles including throw and fitted bedspreads as well as duvet covers. We also make pillow shams. We suggest ordering the fabric sample pack and using one of our heavier linens. Please browse this page as well as applique & stencil designs to help you make design decisions, then contact us for an estimate.
Talking bedding:
Pillow Tuck: extra length added to the bedspread so that you can fold the spread around your pillows.
Drop: the length of overhang of your bedding. A typical bedspread has a drop to the floor or at least to a few inches below the mattress. this can vary quite a bit. A coverlet drops to just below the mattress & usually is used with a decorative side board or a dust ruffle. Some beds may need an unusually long drop either because they are an extra high vintage style or because they have an extra thick mattress.
Check your bedding sizes: you may have an unusual custom mattress but generally mattresses are standard sizes of king, California king, queen or twin. Pillows are usually king, queen or standard.
Traditional Throw Bedspreads & Coverlets
The classic & simple bedspread style for an Arts & Crafts bedroom, our throw bedspread is lined & has rounded corners at the bottom & square corners at the top. Craftsmen style applique or vintage stencils along the seams can add a subtle accent. A throw bedspread will have a 21" drop as standard. A coverlet will have a 14" drop. A 20" pillow tuck is available on request. The hem is blind stitched & the spread will have two seams several inches from the side edges. The placement of these seams will depend on the size of the bed & the width of the fabric. The inside or outside edge of the seams is an excellent location for an Arts & Crafts stencil or applique border.
Fitted bedspreads are suitable for daybeds in Craftsmen libraries and for more tailored Arts & Crafts bed make-ups. They work best with beds that do not have a foot board. The bedspread will have a 21" drop. A 20" pillow tuck is available on request. The fitted bedspread will have a seam around the mattress edge (as well as a seam several inches from the mattress edge) & an inverted box pleat at the bottom corners, either opened or closed. The mattress edge seam may be corded for an additional charge. An applique as a center medallion adds interest.
Duvet Covers
A zippered cover for a comforter. Duvet covers would be used with a bedspread on an old fashioned Stickley bed. These may be made with a designer fabric top & natural muslin back or with designer fabric on both sides. The edge may corded or with a simple seam. The inside corners have closures to secure your comforter (most comforters are made with loops at the corners).
Pillow Shams
Pillow shams are a good idea if your bedspread has no pillow tuck or for a bed in a Craftsmen study. They can be made to match your spread or in a contrasting fabric & are an excellent place for embroidery or stencilling. They are available in three styles: plain, corded edge & flanged.